Your search for the perfect base mesh ends here. Unleash your creativity and streamline your character design process with ModMesh. Choose from our meticulously crafted base meshes or create your own masterpiece from endless possible combinations. ModMesh's modular, beginner-friendly design ensures that you can seamlessly blend parts, achieve flawless results, and produce captivating characters—all while enjoying compatibility with nearly every 3D software. Start bringing your characters to life like never before with ModMesh!
✔️ Limitless Creativity
✔️ Effortless Modularity
✔️ Meticulously Crafted
✔️ Compatibility with Nearly all 3D Software
✔️ Beginner-Friendly
Includes:
ModMesh Head Archetypes
ModMesh Body Archetypes
ModMesh Head Fusion File
ModMesh Example & Random Combinations
ModMesh Tips and Best Practices Video
Regular price
$140.00 USD
Sale price
$69.97 USD
Unit price
per
Sale
Sold out
View full details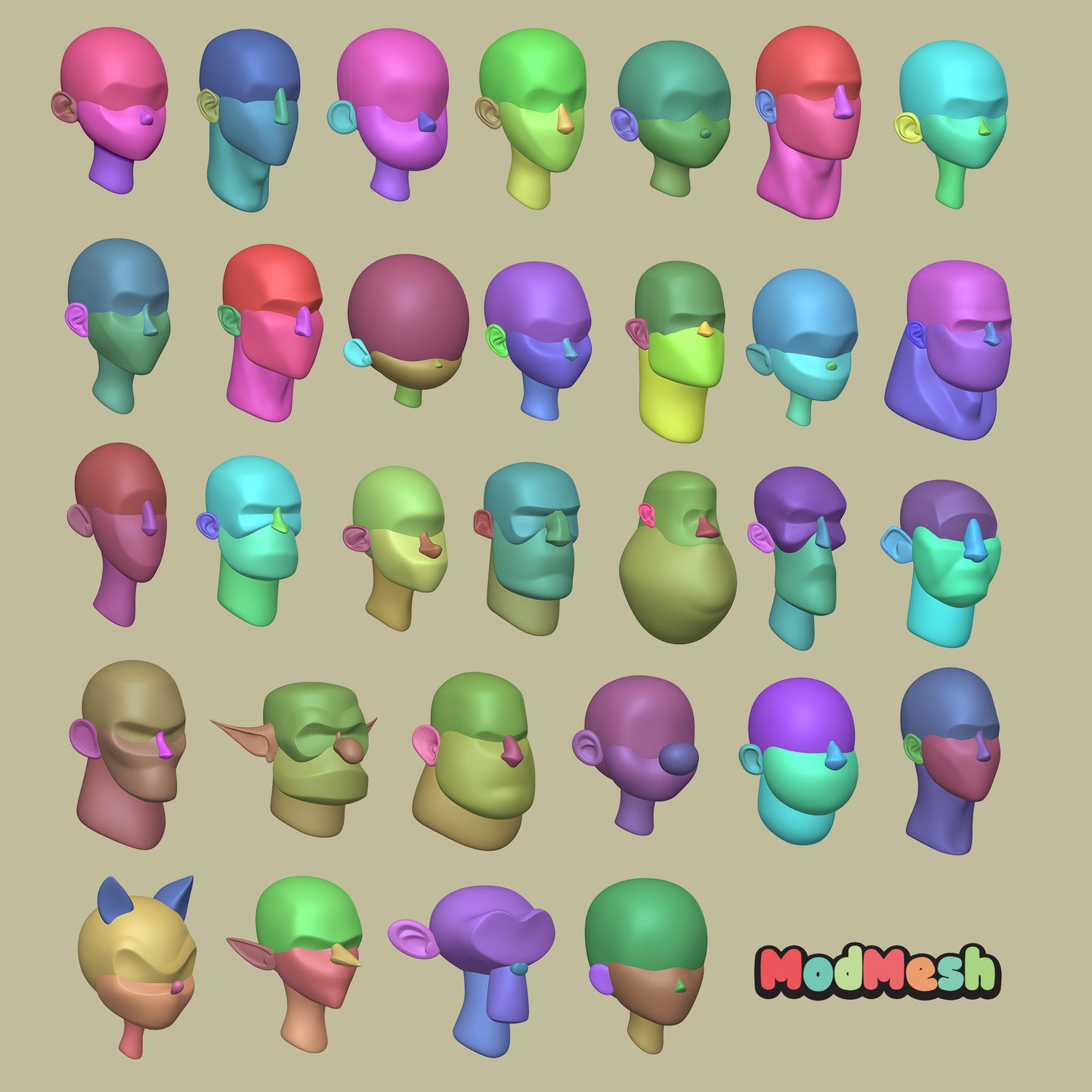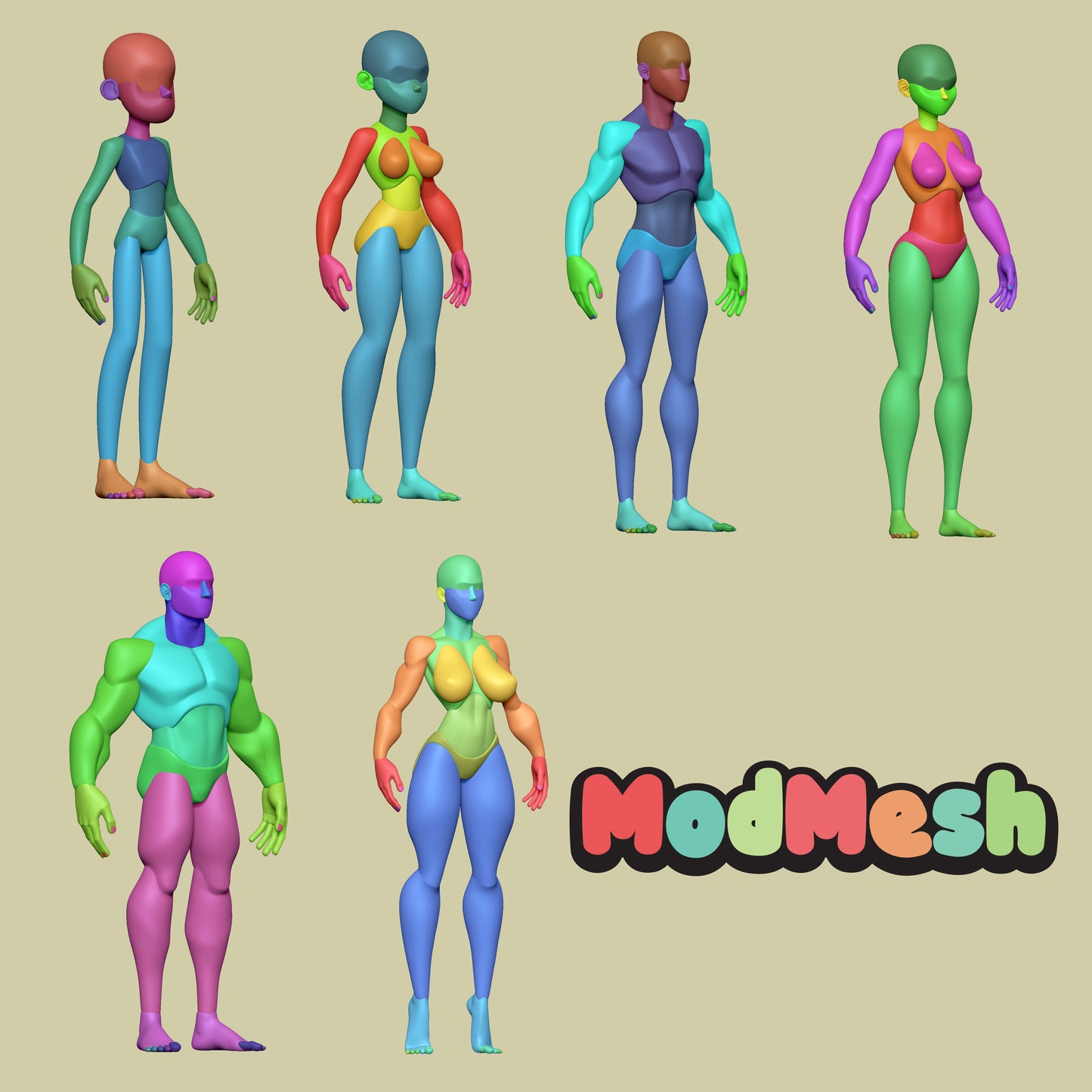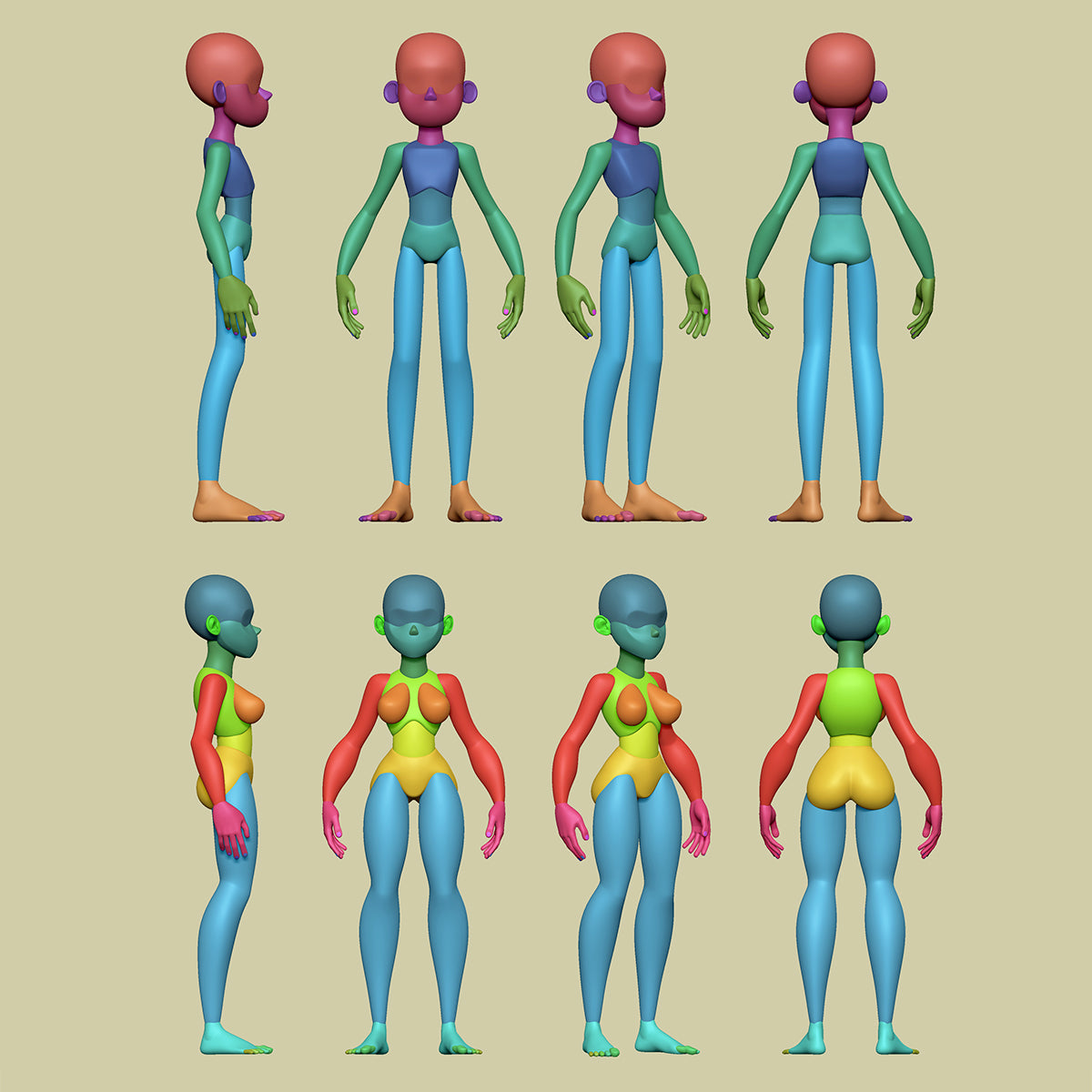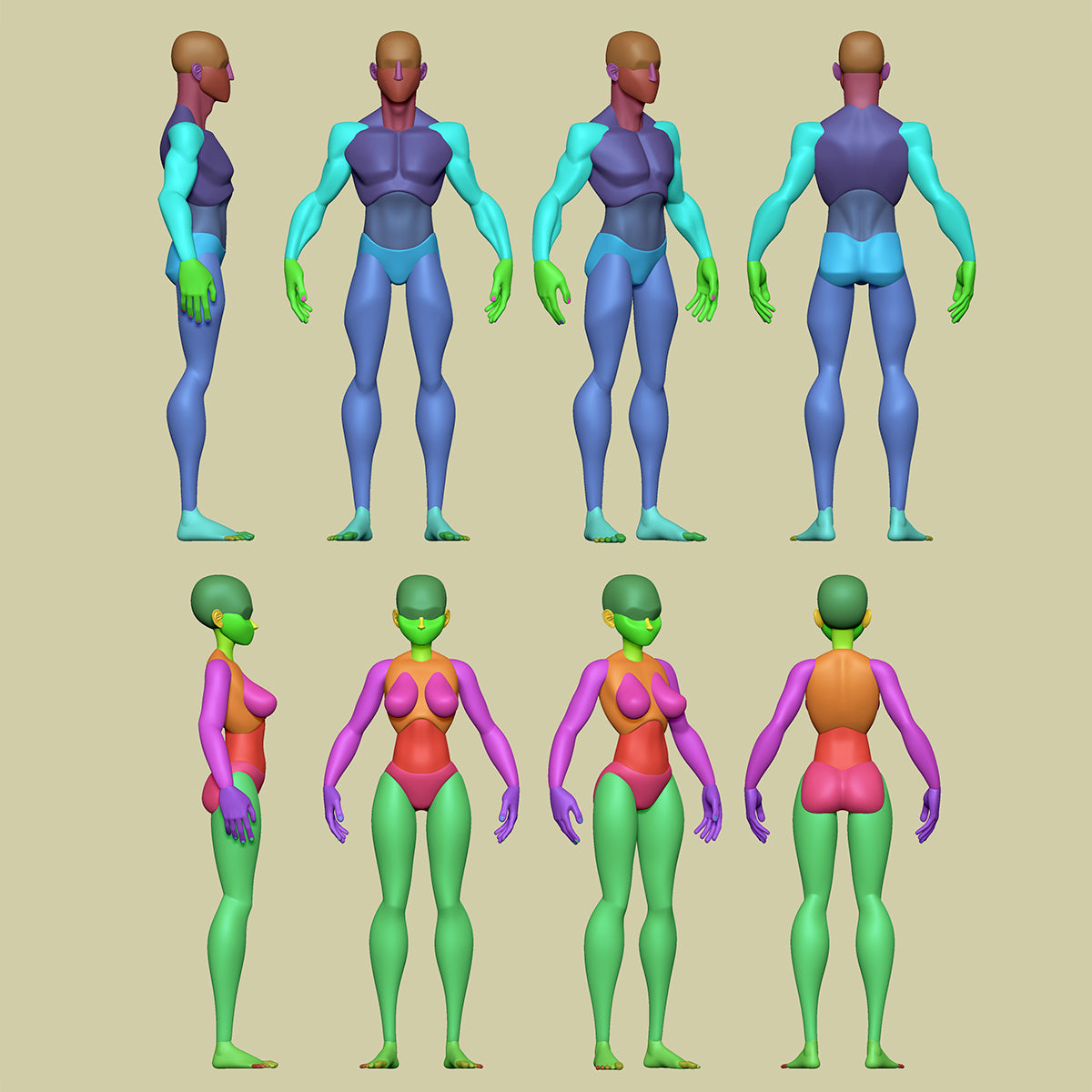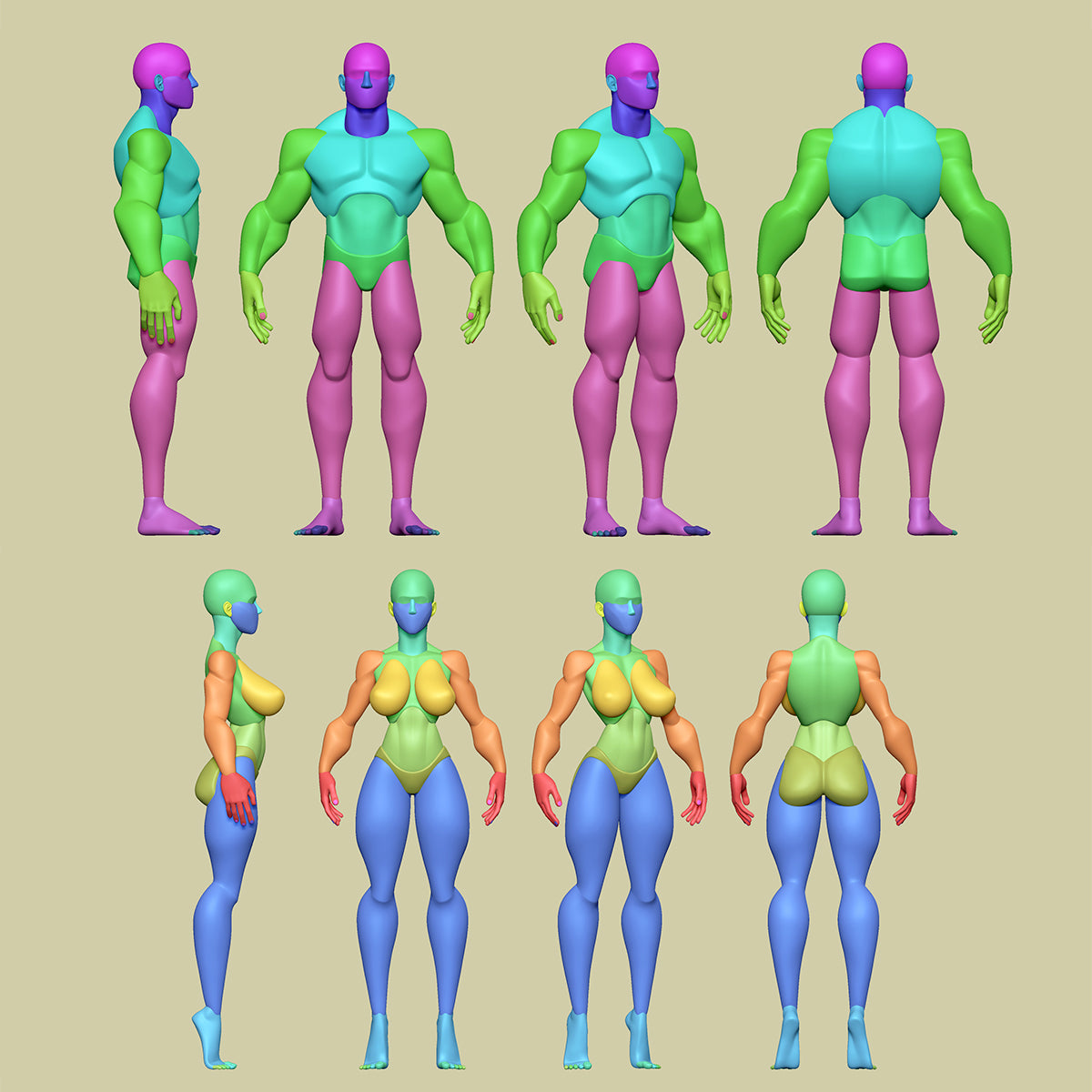 A Character Creation Breakthrough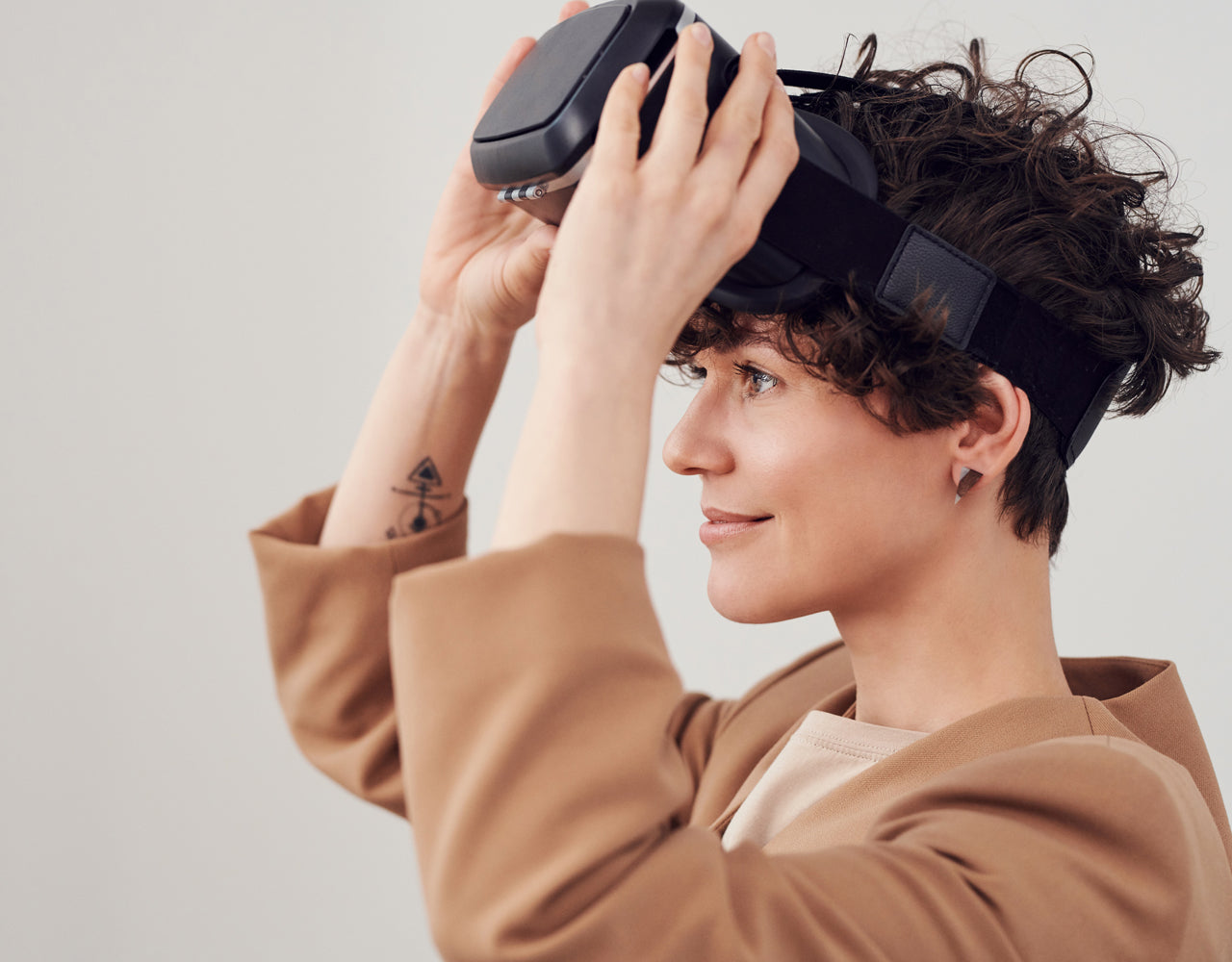 Innovative 3D Character Design Tool
We've developed a groundbreaking tool that's revolutionizing the 3D character design industry. ModMesh empowers you to effortlessly craft characters with precision and ease. Explore endless design possibilities and bring any vision to life, whether you're a seasoned pro or just starting out.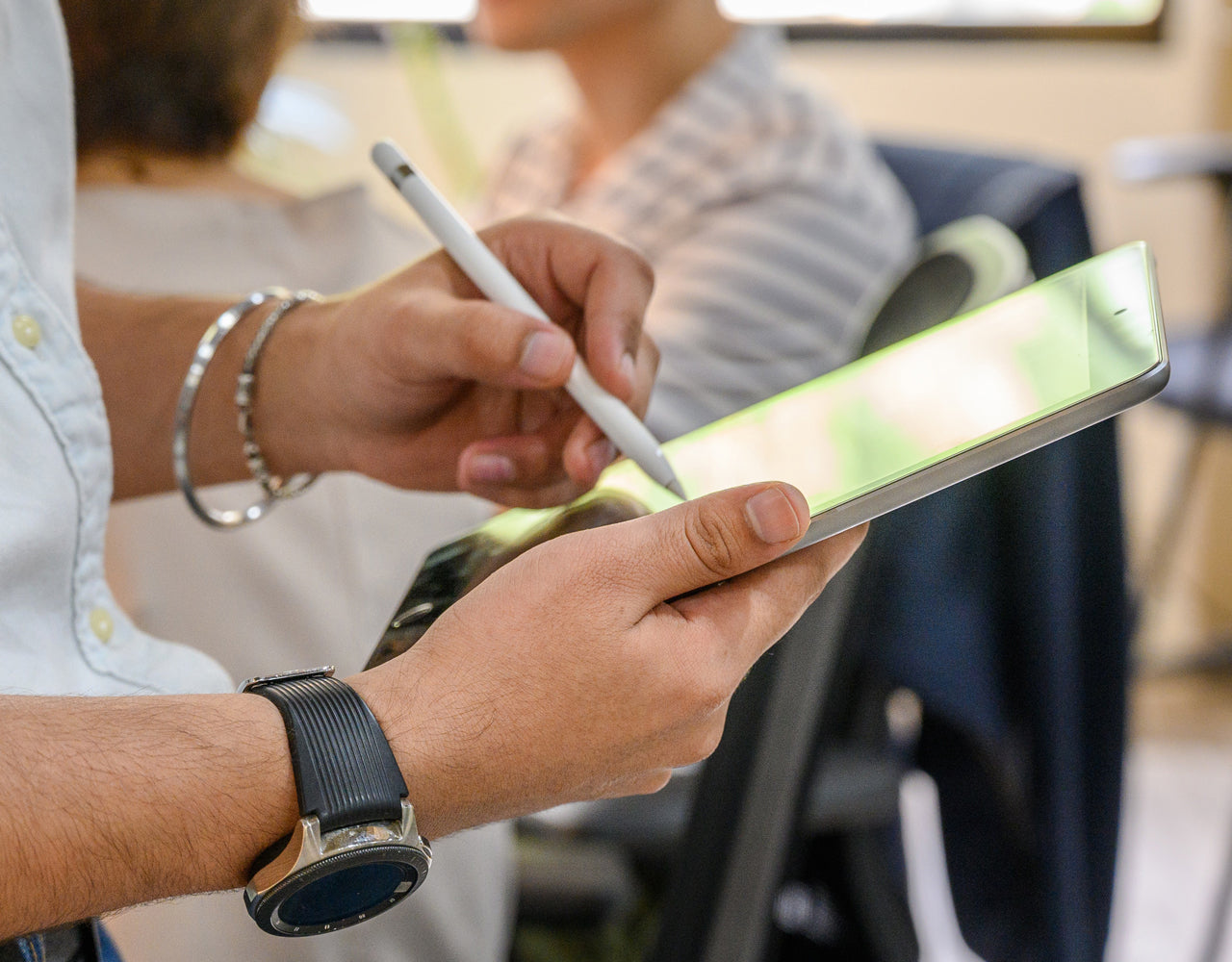 Limitless Possibilities for Your Creativity
How many combinations are possible? Literally quadrillions. But that's such a big number, it's simply easier to say endless—and if we're being honest, we've kind of lost track at this point. With ModMesh, we enable you to craft characters as unique as your imagination, thanks to our extensive range of modular parts and boundless design options. Your creative universe awaits!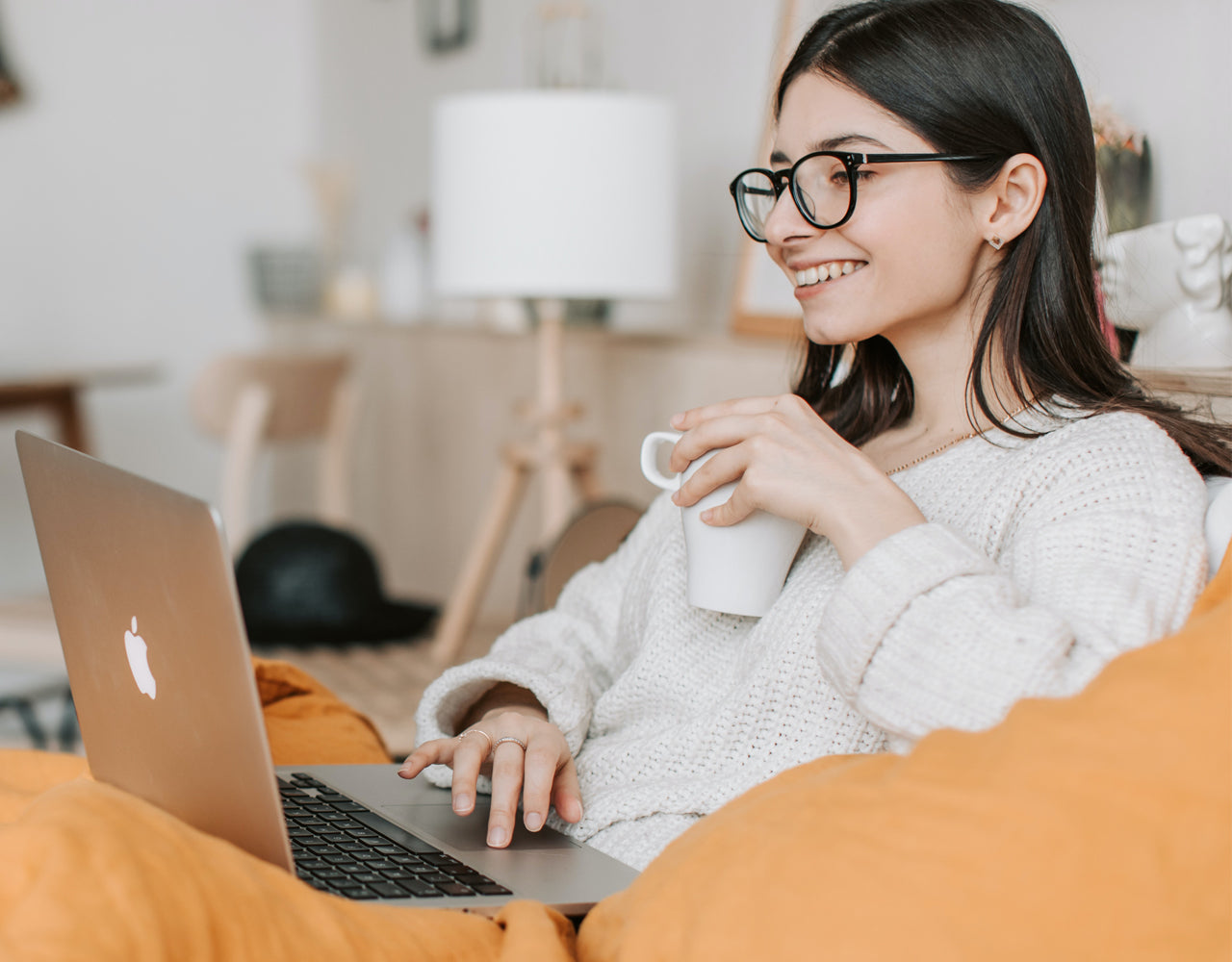 Your 3D Companion with Seamless Compatibility
ModMesh offers seamless integration with your existing workflow, regardless of your preferred 3D software. Our solution effortlessly aligns with your established processes, enhancing your efficiency and productivity without the awkward hiccups that come with learning a new tool.
Meticulously Crafted
Every element of ModMesh is meticulously crafted to deliver excellence in 3D character design. From our thoughtfully designed base meshes to the precise arrangement of modular parts, we've poured our passion for quality into every detail.
Archetypes

Choose from meticulously crafted pre-built archetypes, each with its own unique character and personality, providing a solid foundation for your creative projects.

Create Your Own

Dive into the creative process by designing custom characters from scratch using ModMesh's extensive range of modular parts. Unleash your imagination and bring your unique visions to life.

Let Randomness Inspire

Embrace the element of surprise and creativity by randomly selecting parts to compose your characters. This approach can lead to unexpected and delightful results, fostering new ideas and artistic exploration.
What Makes ModMesh Everyone's Favorite 3D Tool
Hear from verified customers who are loving ModMesh's limitless creativity.
Nathan S. - Verified Buyer

⭐⭐⭐⭐⭐

I can't believe something like ModMesh exists. It's a treasure trove for character design. It helps me quickly create characters for my animation projects, and I couldn't imagine not having it now.

Sophie W. - Verified Buyer

⭐⭐⭐⭐⭐

ModMesh has been a game-changer for me. As a 3D artist, it has saved me so much time. It's like a creative genie that grants my art wishes!

Henry L. - Verified Buyer

⭐⭐⭐⭐⭐

This thing is just insanely good. I used to struggle with always adjusting my base meshes for hours and hours, but ModMesh makes it a breeze. It's an essential tool for any 3D artist.

Olivia M. - Verified Buyer

⭐⭐⭐⭐⭐

ModMesh was my entry point into the world of 3D. Starting out, I was uncertain about where to begin, but ModMesh made the journey incredibly accessible. I'm deeply grateful for this outstanding tool.
How to Use ModMesh
Character creation is easy as 1-2-3!
Step 1

Select a base mesh from ModMesh's library

Step 2

Customize with modular parts

Step 3

Fine-tune your creation to your unique vision
ModMesh vs. Traditional Base Meshes
✔️ Endless Possible Characters

✔️ Helps You Quickly Create Your Vision

❌ Never Ending Searching for Something That Might Work

✔️ Seamless Software Compatibility

❌ Often Requires Additional Tools and Conversion to Work with Your Preferred Software

❌ Require Intricate and Time-Consuming Adjustments

✔️ Fosters Creativity and Experimentation

❌ Rely on Fixed Templates that Stifle Innovation.
Frequently Asked Questions
How Does ModMesh work?

ModMesh is an innovative 3D character design tool that empowers artists to create unique 3D characters with ease. ModMesh simplifies 3D character design by offering a range of meticulously crafted base meshes, each composed of modular parts. Artists can mix and match these parts to create unique characters, with endless possible combinations.
Is ModMesh suitable for beginners?

Absolutely! ModMesh is designed to be beginner-friendly, making it accessible to artists of all skill levels. Whether you're new to 3D design or an experienced professional, you can benefit from its features.
Is ModMesh a standalone application?

No, ModMesh is not a standalone application. It is a versatile tool designed to enhance your 3D character design process by seamlessly integrating with various 3D software programs. You can explore its full potential when used in conjunction with your preferred software for character creation.
What software is ModMesh compatible with?

ModMesh is designed to work seamlessly with nearly all major 3D software. ZBrush, Blender, Nomad Sculpt, Autodesk Maya, 3ds Max, Cinema 4D, Geomagic Freeform, and many, many more!

If you don't find your specific software listed, chances are it's still compatible. Simply check if your software can import ZTL, OBJ, or FBX files to use ModMesh seamlessly.
How many character combinations are possible with ModMesh?

ModMesh offers an incredible range of possibilities, with literally quadrillions of character combinations. It's a tool that encourages endless creativity.
Can I create my own characters with ModMesh?

ModMesh allows you to start from scratch and design your own characters or choose from a selection of meticulously crafted pre-built archetypes.
Is there a tutorial available to help me get started?

Yes, we provide comprehensive courses to assist you in using the tool effectively. Check our courses section for more information.
Are there plans to add more features or expand ModMesh in the future?

Absolutely! We're constantly working to improve ModMesh and expand its offerings. We welcome your feedback and ideas for future enhancements.
Is ModMesh suitable for creating characters for games and animations?

Yes, ModMesh is a versatile tool that can be used to create characters for a wide range of applications, including games, animations, and more.
Can I use ModMesh for commercial projects?
Why are facial features like eyes, mouths, and eyebrows excluded from the base meshes?

These expressive features often limit creative freedom by steering designs in predefined directions. ModMesh prioritizes providing clean, versatile forms in its base meshes, allowing users the utmost flexibility to craft their own unique characters quickly and effortlessly.
Can you explain the topology used in ModMesh?

ModMesh features clean and elegantly designed geometry that subdivides exceptionally well. It's important to note that while the topology is optimized for 3D modeling, it may not be inherently suitable for animation purposes, as ModMesh parts are primarily designed for seamless combination.
Is there a community for ModMesh users to connect and share their work?

While we don't have a community forum at the moment, we encourage users to share their work and experiences on social media platforms using the hashtag #ModMesh. It's a great way to connect with other artists using the tool.
Modular base mesh
Excellent product, yhank you a lot :)
Great base for mesh work
Very nice base work to start with. Good job.
Amazing product!
I am currently working on some models for a very big client and this is such a lifesaver !
Thank you for this !